An access platform is an essential device in industrial areas or construction sites. They are universally applicable in all industries. However, there are many types available; it can be hard to decipher that you need to manage your projects. Al Safrik Steel is a leading name in the UAE's Steel fabrication industry. We manufacture various access platforms that cover all your project requirements. You can access us on multiple platforms because we know how to cater to your needs. These are suitable for all types of projects and worksite areas.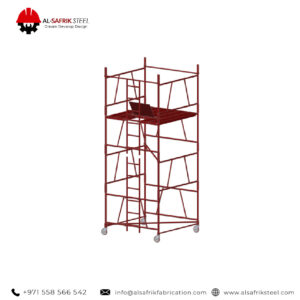 Make your staging durable for a long time using our various wheels. You will not have any stress handling your gear carefully. It will provide a clean, smooth, quiet and peaceful performance. In the age of technology, you have a device without cables. This item is designed as per the current needs. These are very easy to operate and handle on all types of material, either concrete walls or wood. It is the best option for the user who enjoys industries or workshops.
Types of Access Platforms:
Three main categories of these platforms are available: powered, semi-stationary/stationary, and folding. All these are available with plenty of benefits that inform their most common applications.
1. Snappy Tower:
This system offers a similar result to a short-step ladder. These are more stable and deliver a larger working area for easy and quick movability. Their premise is that it folds out to lift the workers to assist them in reaching higher spaces. It is ideal for interior and exterior sites because workers can use them to manage work on the upper areas, such as ceilings and high walls.
2. Scaffolding:
Scaffolding does have its demand on construction sites and many other technical capacities. It is something technical as a whole and requires a bit of time to learn. But, once a person has the knowledge and practice, he can easily do an amazing job at construction sites. Construction workers need to know basic scaffolding to enhance their skills and improve their working abilities. To ensure ultimate progress, they must learn the skills according to a proper schedule.
3. Scissors Lift Platform:
What is a scissor lift? It is a platform that moves vertically. The mechanism to attain this is using the folding and linked supports in the Crisscross pattern. It is known as the pantograph.
A scissor lift platform is a work platform that's intended to carry loads as well as people. It lifts by using its crisscross supports which work over the desk to raise everything on it. Using a few types, they could use the mechanical, pneumatic, or mechanical capability to reach whatever height will become necessary, up to 60 feet. You can check the features online of the Scissor lift for sale. You can use it in your commercial, wholesale or Business surroundings:
Operators of the scissor lift table can reach heights they might not otherwise be in a position to. They minimize tiredness in customers due to the simplicity of motion using their excellent design. Its use decreases repetitive strain injury by helping users stand themselves at superior working angles. The load is going to be lifted owing to just how a vertical rotational movement works during an elevator.
4. Folding platform systems:
Also recognized as a hop-up system and these types of platforms are used in performing some tasks, including:
Finishing
Painting
Construction
 Offside repair jobs
The folding platforms are famous for their versatile and mobile feature. The whole system can be set on the back of the truck and held for hours.
5. Stationary and semi-stationary platforms:
These platforms incorporate fixed situations or lockable casters to develop a bound inside the space. Customers are frequently asked for its custom request to satisfy explicit capabilities on a place of work. Both types of platforms typically integrate guardrails yet may leave at least one side open to give laborers better admittance to the workspace.
6. Mobile access towers:
It is commonly known as mobile scaffold towers and is used to support performing the task from-height access equipment of internal and external points. These platforms are considered more efficient as compared to traditional scaffolding platforms. The usual length of the tower will be 1 meter and can be increased up to 6 levels of the actual height.
7. Powered access platforms:
Powered Access would be the first choice to provide a portable solution to access. The platform is well-known for its common name, aerial work platforms. By feature, it is an elevated working platform that is powered by a motorized device. The powered Access Platforms include:
Cherry pickers
PAV lifts
Scissor lifts
Lorry-mounted platforms and many more.
The platform can be reached up to 10 meters, but a lot of safety awareness is required working with such platforms.
Comes with High-quality material:
The latest access platforms by Al Safrik Steel are the right solution if you need this type of heavy material on your site. Purchasing this heavy machinery is not easy because it is an expensive investment. The high-quality equipment works comfortably in confined areas with the machinery's upper frames. Its compact radius formation helps you to concentrate on the work. These are efficient machines and allow you to work without the pressure of damaging any property on the site. This is good for most contractors who need heavy-duty material for their sites.
Which machinery do you need to use?
On construction sites, the need for machinery is always there. The hiring services specialize in tight access lifting material or earth moving equipment in the construction site. The broad range of equipment consists of Utes, Trucks, Dumpers, Kanga, Cranes, Spider, Excavators and Scissor lifts. They assure you high-quality hiring equipment is 100% maintained, complaint and services to manufacturers' specifications to decrease time. In this way, you can maximize the profits. Hiring this equipment can be affordable for you as it is difficult to invest a lot in purchasing these products, their operation and maintenance.
Is a license required for powered access platforms?
Under the rules and regulations of the estate, the driver or operator needs to get a license to operate this equipment. It is necessary for high-risk, including operating booms more than eleven meters. There are some other formalities and precautions that you need to keep in mind. If you are a contractor, it will be a hectic situation for you because you cannot handle these affairs and work on the site. Hiring or taking the equipment on rent can be more affordable for you.
Our exclusive quality and unique material are the evidence of our performance. Our access platforms help users who work in industries that need building tools for their products and other equipment. Al Safrik Steel offers these high-end products using innovative technology. These tools offer several perks by completing their tasks very easily.