In construction and civil projects, a huge container is used for transporting concrete from one place to another. A concrete bucket is an effective device that enables the pouring and lifting of concrete. It comes in various shapes with a gate at the bottom that is movable. The bottom is attached to the lifting hook of the crane. Concrete buckets help deliver concrete to a specific site of a building by the means of a tower crane. They have a bottom opening to allow concrete to flow out of the bucket when in-place.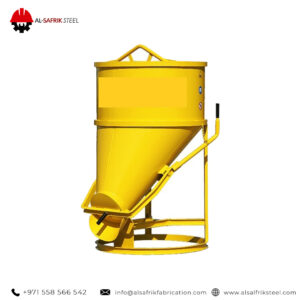 View
AL Safrik Concrete Bucket

Gallery
The concrete bucket is a unique combination of the following features:
The concrete bucket has an unshared shutter system. In other words, it has a temporary support as a mould for fresh concrete, in which concrete is poured and cast in the desired shape.
It has an improved bucket funnel gate or opening that controls the flow of product.
A very important feature of our concrete bucket is that a flexible hose is attached.
Using a concrete bucket can be much more efficient because, after adding concrete to a bucket, the pour that we do to our form is much more easily controlled. We can also avoid spills that are difficult to handle without specialized equipment. It becomes easier to control the flow.
Types of Concrete Bucket:
Concrete buckets come in various sizes and shapes. Its different types are classified based on their shape and structure. The following are the types of concrete buckets,
1. Funnel-type Concrete Bucket:
The Funnel-type Concrete Bucket is preferred where a large volume of wet concrete has to be transported with reduced to and from the ground to the desired heights. It has the capacity to carry up to 3 cubic metres in one stroke. All our funnel-type concrete buckets come with heavy duty lifting hooks and rods, which makes us recognizable in the market. It is used on construction sites for cement projects, ceilings, monolithic frame structure columns, and casting walls. The funnel-type concrete bucket is the easiest to use. The concrete can be loaded directly into the mixer. Al-Safrik Steel provides you with the lowest price, premium quality, and fast delivery. Customization is also possible by adding a safety cage with a funnel-type concrete bucket.
2. Central discharge Concrete Bucket:
The concrete buckets that can easily pour in and out through the centre are categorized as central discharge concrete buckets. It has a standard capacity of 0.50 to 4.00 cubic meters. The central discharge concrete bucket has a central unloading capability. It has two big levers for opening and two springs that automatically close the discharge valve. To assist the filing of concrete, it has less height as compared to other types of concrete buckets.
3. A Cylindrical Concrete Bucket:
With a manual automation system and a capacity of 0.50 to 4.00 cubic metres of concrete, the cylindrical concrete buckets are the most widely used buckets on construction sites. It has a dense size and a convenient structure that make it distinct from others.
4. Chain Sprocket Operated Concrete Bucket:
Chain sprocket operated concrete buckets have a unique design that allows a huge quantity of concrete at once. The chain sprocket mechanism of this concrete bucket, the load that falls on the opening plate is evenly distributed, and thus it can be opened very easily by hand. It is used in column concreting and has a capacity of 2 to 5 cubic meters. Lifting is done by a four-way wire chain sling that is attached along with the concrete bucket. 
5. Banana-type Concrete Bucket:
These types of concrete buckets have a one-sided discharge of concrete. Banana-type concrete buckets are convenient for pouring concrete at higher altitudes. Owing to their special design and highly fine finishing, these are greatly in demand. Al-Safrik Steel Concrete Bucket Banana Type is made from raw materials sourced from credible suppliers. These buckets allow efficient movement of ready concrete mix from one point to another within the construction site.
6. Gear-Operated Banana Concrete Bucket:
Gear operated banana concrete buckets are used when you have to regulate the flow of wet concrete while column filling. This type of concrete bucket allows you to fully control the flow of concrete at your site because of its gear operating system. Al-Safrik Steel specializes in manufacturing gear-operated banana concrete buckets, and their unique characteristics make them worth the investment. You can easily mix the concrete in construction premises, which makes it ideal for working within facilities.
7. ST Mechanism Concrete Bucket:
ST Mechanism or spring tension mechanism concrete bucket is used to deal with a huge amount of concrete. The bottom cone is attached with the 6 meters length of rubber hose pipe. Because of the spring tension mechanism, the flow of concrete could be stopped at any time. The hose pipe helps discharge concrete from any narrow or convenient place. It is easy to maintain, easy to mount, easy to carry and has a high performance.
The following are the advantages of using a concrete bucket:
A concrete bucket is very convenient and handy to use on a construction site.
As we know, reducing on-site installation and offering a more quality-controlled product led to significant cost saving as well. The concrete bucket does not need to be installed, and thus it is a cost-effective product.
It has a special type of structure to keep the wet concrete.
A concrete bucket comes in a variety of concrete capacities and shapes depending on the needs.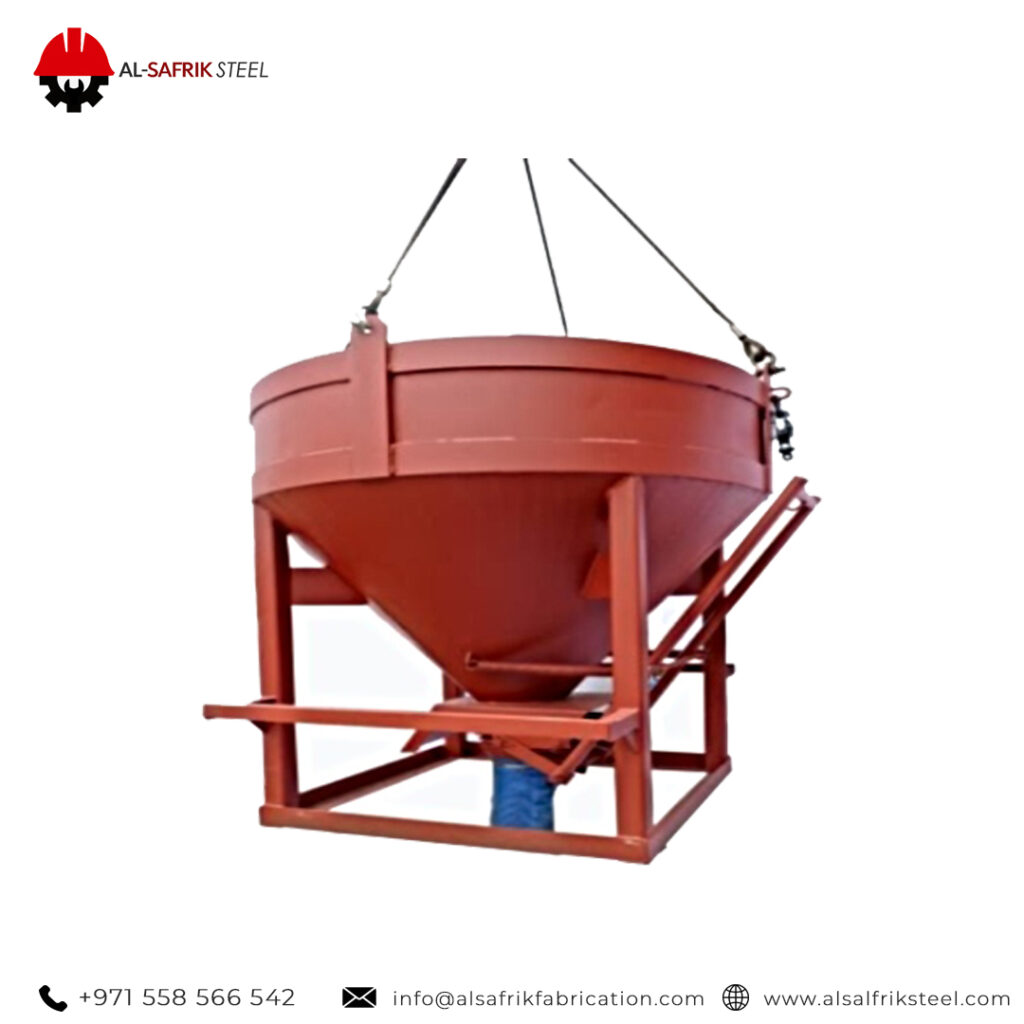 Al-Safrik Steel Concrete Bucket:
Al Safrik Steel provides its valuable clients with an exclusive range of concrete buckets extensively used for its quality standards. Designed using the finest quality raw material, this bucket is used to carry ready-mixed concrete from one place to another within the construction premises. Our expert engineers and skilled employees are designing quality products according to accurate measurements. Al-Safrik Steel concrete buckets are highly in demand in the construction sector. We manufacture our products exclusively in Abu Dhabi and then deliver them all across Dubai, Sharjah, Oman, UAE, Kuwait and other Middle eastern countries. We can customize the product according to the requirements of our client's project. Feel free to contact us for Best Steel Products.