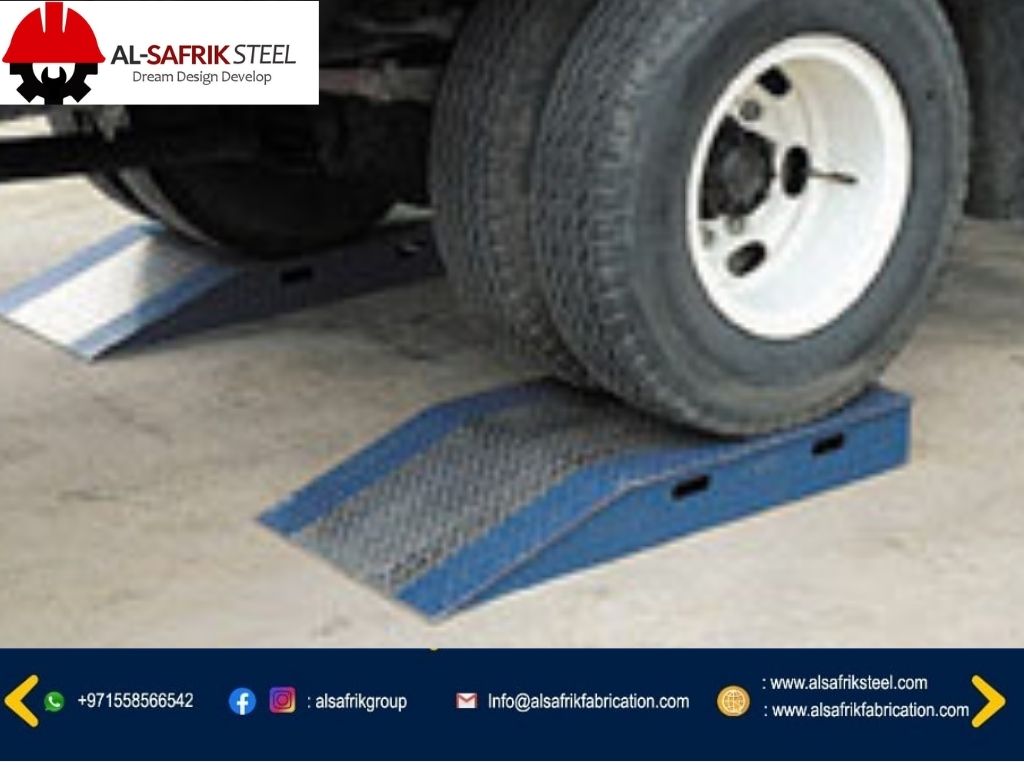 Al-Safrik ​

Steel's Wheel Riser:
Al-Safrik Steels specializes in the supply of Wheel Risers in Dubai, Sharjah, and Abu Dhabi. Al-Safrik Wheel Risers are well-built and sturdy. Our Wheel Risers are manufactured exclusively in Dubai, United Arab Emirates. Al-Safrik Steels is proficiently supplying Wheel Risers for different companies in UAE. Having an incredible history of manufacturing industrial products, we satisfy our clients by providing rugged and reliable products that last for years. Al-Safrik steel specializes in the design and manufacturing of Wheel risers that could match any dock arrangements. Our unmatched attention to detail design and use of 100% steel make our Wheel Risers the most durable in the market. During an assessment, we ask many questions from our clients to provide the best possible solution. 
Wheel Riser is the equipment used for trucks or any vehicle to locate properly above the landing stage so that loading and unloading of the cargo can be done smoothly and efficiently.  It helps to raise the dock's height and is built to eliminate the trailer height changes caused by the inclined pathway. Wheel risers can be handled very easily by fixing them at any place. The other names of Wheel risers are Truck Risers, Loading dock pit fillers, Trailer risers, or Trailer lifts. Wheel Riser is the ideal solution for cargo that has much height when receiving shipment vehicles. 
In Just-in-time inventory system, which was the most remarkable of advanced developments, often replaces centralized shipping and receiving areas with" point-of-use" docks, resulting in the increased importance of loading dock efficiency. For increasing load dock efficiency, the need for Wheel Risers was raised. Changes in truck trailers, such as higher capacity models, were also as significant. Either way, just-in-time or new style trailers, the dock safety concerns increased, but the danger is most important when both factors are involved. 
Importance of Wheel Riser:
Industry experts have recognized that the loading dock is one of the most hazardous areas in the workplace, responsible for up to 25% of all industrial misshape and accidents. In the early 1980s, rising labor and shipping costs and the increasing cost of maintaining industries drove many developments and techniques. One significant development was the introduction of Wheel Riser. The main goal was to increase productivity. These developments had a significant effect on the operations and especially the truck dock.
Features of Our Wheel Riser:
Material: Welded Steel, Powder-coated steel

Full-Size Stiffeners 

Capacity: 40,000-Ib capacity per pair

Fully Customizable according to our client's instructions.

Perfect for use with box trucks and low heightened delivery trailers.

Easily portable from one place to another or can be permanently fixed.

Our Wheel Riser comes with fork pockets in place of tabs.

Durable, flexible to position in any area, and standard quality control.
Typically used when lower vehicles need raising to operate safely on existing loading bays, preventing the need to replace existing

loading dock equipment, or carrying out expensive civil works.

Al-Safrik steel Heavy Duty wheel Risers are designed to be fixed in a location for use with huge vehicles such as HGV's.

The combination of some loading bays used with certain types of vehicles can also cause a slope of the trailer back to the loading bay, which is not ideal when loading and can lead to excessive rain ingress inside the building.

Al-Safrik Steel's Wheel Risers are used for particularly huge cargo or low-bed trailers. When backing lorries onto the Truck Risers, the truck will be brought up to the cargo level, thus permitting the quick loading and unloading of merchandise.

Wheels are fixed as standard to all truck Risers. 

The mobility of the risers and their easy application are ideal for any size of tire.
Advantages of Wheel Riser:
It increases the loading and unloading dock efficiency. 

It is customizable and can be in any size. 

It has a wide range of capacities. 

An increase in height reduces the chances of damaging the bumpers and building face, on the other hand allowing easy access. 

The riser maintains drainage for the dock and brings the trailer bed at or above the port regardless of the trailer axle's position.

It rises all trailers above the dock regardless of axile position.

It allows smooth delivery between forklifts or any other industrial truck and transport vehicle. 

Wheel risers prevent serious accidents that could cause damage to the forklift, its operator, or the product.

It is low cost and saves money as well as energy in the long run.

It helps to make most of the supply chain processes efficient, and an efficient supply chain can provide a significant competitive advantage to any company.

Wheel Risers improve trailer reliability with two specifically designed heights to safely access the trailer and are hydraulically positioned before trailer positioning. 

It provides ultimate quality material handling. 

Minimize unsafe loading and unloading dock circumstances. 

The design of the Wheel Riser is flexible enough to be placed anywhere or can be fixed permanently.