View
LOADING RAMPS

Gallery
A loading ramp is a flat supporting surface tilted at an angle used for loading or unloading from a certain point. In simple words, a loading ramp helps you load or unload heavy objects from a container or vehicle. It is your ultimate worksite best friend!
Al-Safrik Steel high-quality Loading Ramps are supplied in Dubai, Sharjah, and Abu Dhabi. At Al-Safrik, we are offering a wide range of ramps to suit your application. Al-Safrik Steels is proficiently supplying customizable Loading Ramps according to the need of clients. We carry a wide range of standard pre-engineered loading ramps for sale, perfect for advanced turnaround times. We can custom engineer any loading ramps for our customers.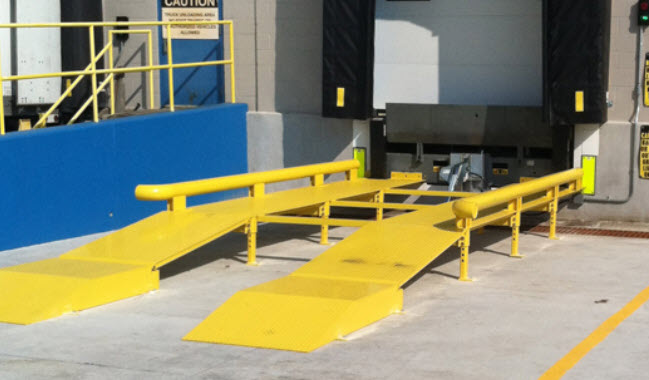 Why Al-Safrik Steel's?

Loading Ramps
Trusted by major companies across the United Arab Emirates, Al-Safrik Steels continuously sets the industry standard for customization, safety, and quality control with its highly effective loading ramps. Our unmatched attention to detail design and use of 100% steel make our loading ramps the most durable in the market. Having an incredible history of manufacturing industrial products, we satisfy our clients by providing them with long life and reliable products that last for years. 
Heavy-duty loading ramps are movable and light-weighted loading docks. This type of loading dock can easily be disassembled, moved to another place, and adjusted or efficiently stored.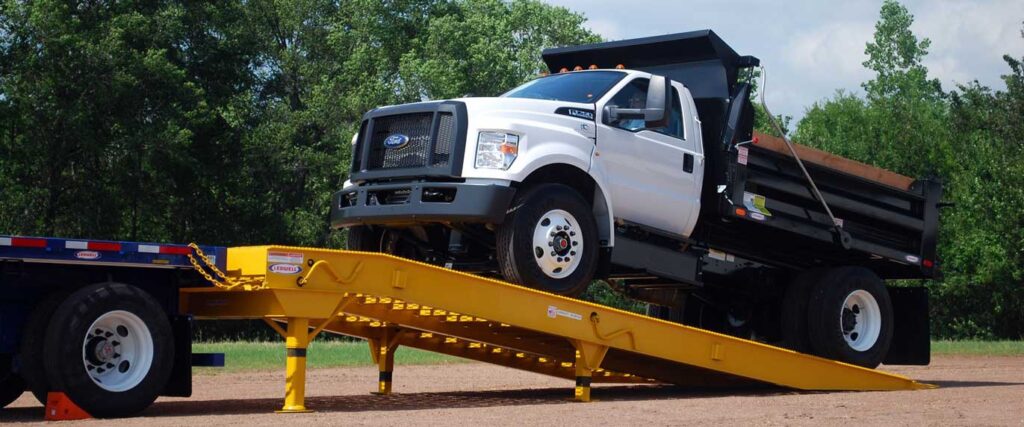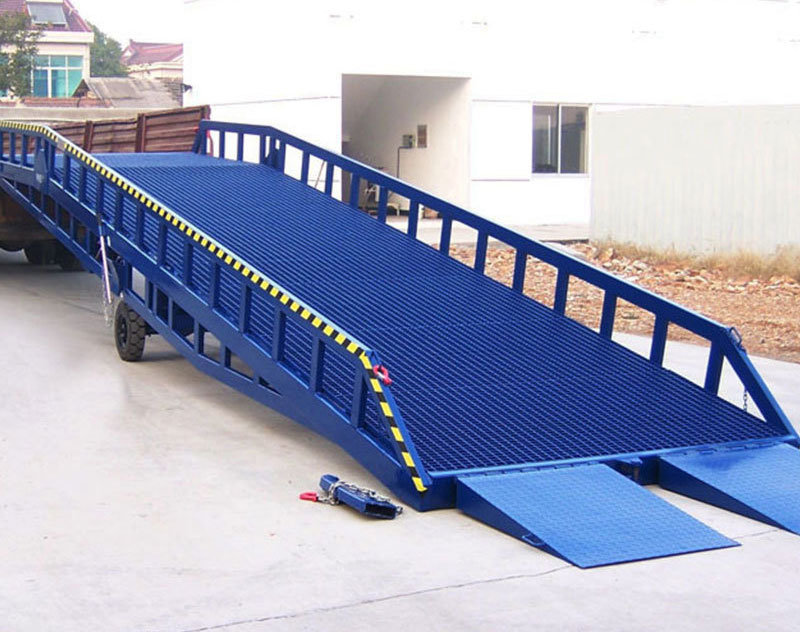 Mobile Loading Dock Ramps
Mobile loading docks feature a creative wheel system, allowing the ramp to be speedily and easily moved from one location to another. This loading ramp also gives a fully self-supported structure, making it one of the safest freestanding mobile ramps in the market. It is convenient for the truck to ground loading or unloading that does not occur on a particular site. These ramps are Forklift Loading Ramps and ground to dock ramps because of their versatile features.
Steps for Correct Application of Loading Ramp
First of all, make sure to use the suitable ramps at the right time in the right place!

Position the ramp against the vehicle, or you can reverse the vehicle to the ramp.

Hook up the ramps correctly. 

Make sure that the bottom of the ramp is flat against the ground and alignment is correct.

Open the lowering valve to lower the ramp to the vehicle bed.

Now you must attach the hook and tension chain repeatedly on both sides of the loading ramp.

Chock Ramp Wheel.

Don't forget to raise the excavator blade when climbing.

Before the descent, turn the excavator arm towards the ramp.
Advantages of Loading Ramps
Following are the prominent advantages of using loading ramps,
Minimal cleaning is needed, allowing weather and debris to right fall through.

It makes rolling or carrying heavy loads up a ramp easier than it is to lift it.

It optimizes the efficiency of any operation on the worksite and is an easy-to-use system to get in and out of the truck.

Efficient ramp storage, the platform can be stored on top of the ramp when not in use for smaller storage ramps.

Whether you want to use it in the warehouse, in a shipping yard, or in an industrial manufacturing utility, it can be adjusted to suit any special dimension requirement.

It provides you with double stability and two-way traffic for convenient use. A two-speed hand crank system allows users to adjust the ramp deck height.

It is a Convenient, tool-free setup and takedown for minimal downtime.
Reasons to consider Loading Ramp Safety
One of the significant considerations with loading ramps is safety. Because
If they are not correctly used or securely connected, loading ramps can slip, shift, or move, causing hazardous conditions. 

This can cause critical damages to people and injuries to the cargo as well. 

Severe drops, slides, and broken bone injuries can occur when loading a massive object on a ramp that misses its place. 

It is essential to pay close attention to the vehicle's measurements and the ramp when loading it. 

Damage and death can occur from a car that tips over or falls off the side of a loading ramp.

When driving a vehicle up a loading ramp, the vehicle can readily tilt over, not only breaking the vehicle but hurting or even killing the driver.

Eliminate errors in fastening ramps to the loading beds.

Before positioning the ramp, make sure to extend the excavator arm properly.

Wrong cabin orientation can also cause problems.

If the vehicle has a rear dumper, check that it is locked in a horizontal position.

Avoid climbing in reverse and check the alignment of the ramps.

You can call an expert towing company for reliable and unharmed moving, loading, and hauling, and leave the heavy lifting up to them.

Towing companies grasp all the most exceptional and essential technologies and devices to provide speedy and safe loading.