In the perfect functioning of the piping framework, the piping support plays a key role. Choosing a solid product to maintain your piping system and its function in UAE is important. Our reliable Steel fabrication company in Dubai manufactures these pipe support products to keep their piping system properly running. These products are available in both light and heavy-duty materials so that clients can get products that meet their needs. For the industrial sites, Al Safrik Steel manufactures best functioning pipes support that is made of fine material.
View
Pipe Supports​

Gallery
The pipe is detained from above by supports or hangers of different kinds on which it stays. Hangers are also referred to as supports. Different types of pipe supports are easy to install to support the deadweight loads. It is good to restrain the pipe for dynamic and thermal loads. The designers and engineers at Al Safrik Steel in UAE are trained and experts in their job, so they uniquely design these products. Moreover, our fabrication company in Dubai uses modern designs, parts, and components to manufacture these products. It makes their use simple and quick for special purposes.
The pipe is secured or rested to a standard structural shape support member, including channel, angle, wide flange beam, I-beam, and others. Pipe hangers and supports are gadgets that transfer the loads from the equipment, structural attachments, or pipe. It contains sliding supports, brackets, rollers, saddles, anchors, struts, turnbuckles, sway braces, spring hangers, and rod hangers. Structural attachments are clamped, bolted, welded to the pipe, such as stops, clevises, clamps, lugs, and clips. Our steel fabrication company in UAE focuses on the quality of the products while designing these items for industrial uses.
The economical and correct selection of the supports for all the piping systems is durable and efficient. Al Safrik Steel in UAE has manufactured these products to meet all the industrial requirements. Learn more about the components of the pipe support.
It is related to the pipe support that transfers the loads of the pipe weight to the supporting base, and cradles a pipe. It is similar to the horse support and maintains them from bouncing on the animals. Our steel fabrication company takes care of its manufacturing process to main the structure of the pipe.
All the high-quality pipe supports come with the powerful pipe clamps. It is ideal for outdoor settings, industrial use, safety and others. These are utilized to guide tubing, secure, restrain or conduit for the range of electrical, heating, plumbing reasons.
The design and layout of piping and its supporting components will be direct as per the code ASME B 3.13. It is specified under the legal clauses. The Metal fabrication company in Dubai manufactures these products to protect the workers and industrial organizations from the following accidents.
Leakage at joints
Piping stresses over the permitted in the codes
Excessive moments and thrusts on connected gear such as turbines and pumps
Excessive stresses in the restraining or supporting components
Resonance with the fluid-induced or imposed vibration
Contraction and excessive interference with thermal expansion that is flexible adequately
Exposing supporting components to temperature extremes outside the design limits, and excessive heat flow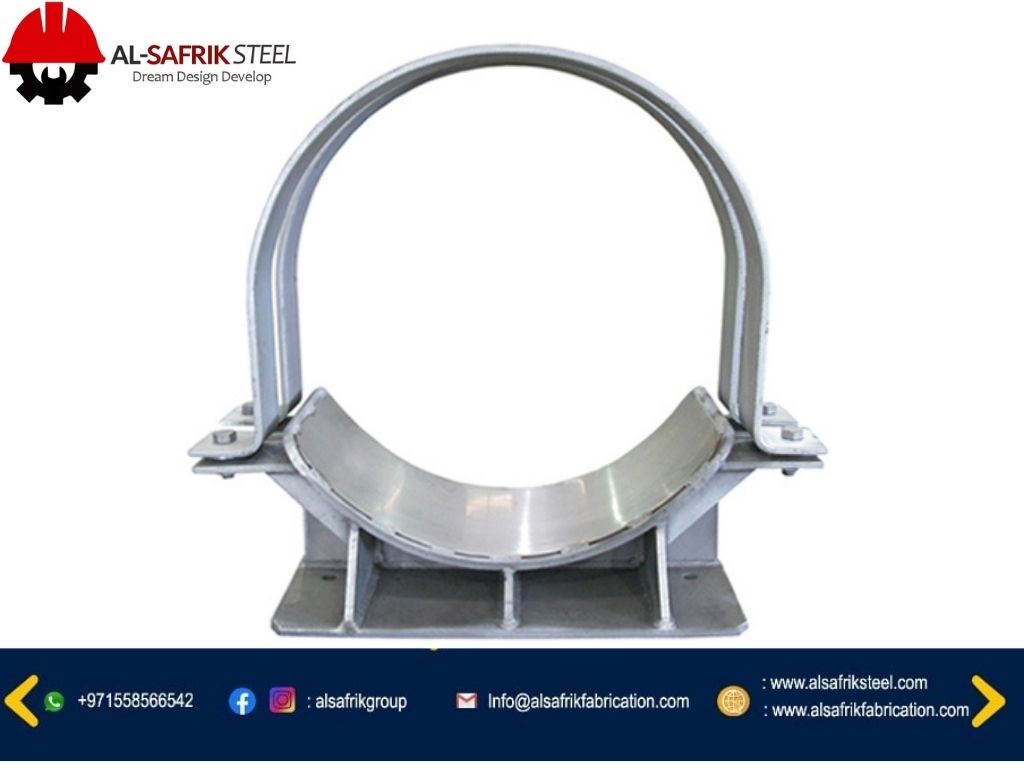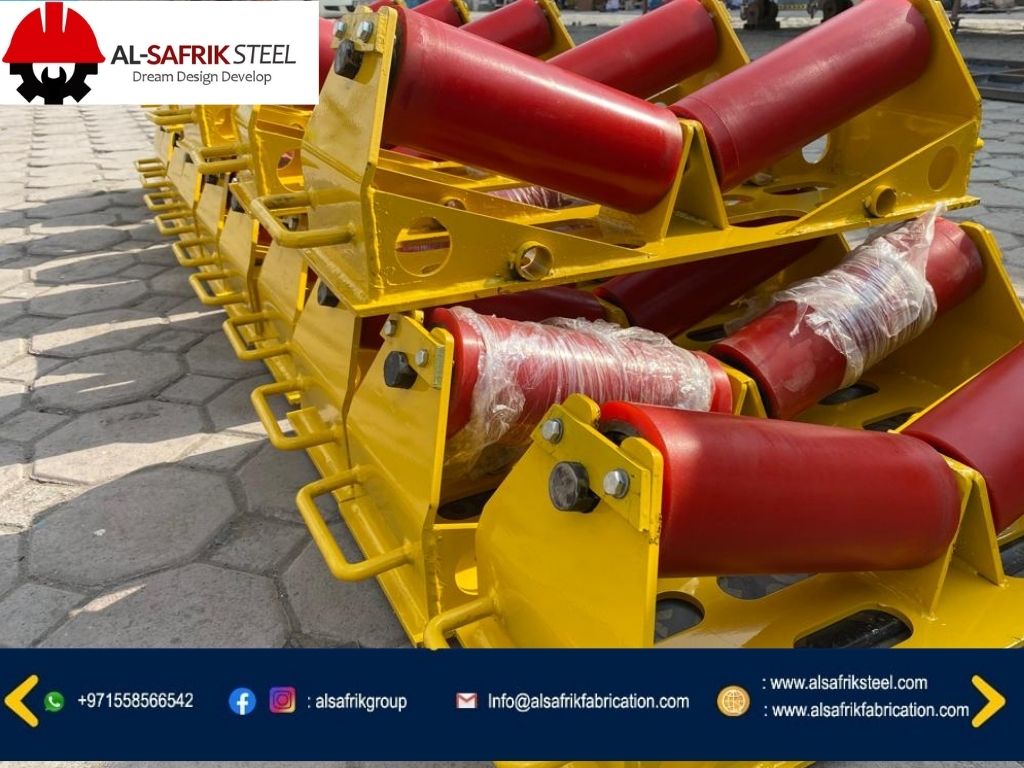 Determination of support location:
On various considerations, the support location depends, such as the configuration of the piping system, pipe size, structure, fitting, heavy valves locations, and others. Designers at Al Safrik Steel in UAE know how to manage all these things while manufacturing the pipes so that those products can meet the requirements. They follow the rules of thumb helps when doing maintenance, operation, and flexibility analysis. It includes several other factors, which are here for your concerns.
Decreases the use of spring hangers
The support piping can be removed without including temporary supports
Consider the requirement to include friction-decreasing slides between the support and piping steel.
These are ideal for supporting the piping system and attaching supports to a straight piper instead of instruments, flanges, valves, fittings, and others.
Piping support Selection and design:
The complicated needs of the modern industry for the design of piping support are easy and economical installation, maintenance-free operation, reliable functioning, low unit price, and instant delivery of elements. Al Safrik Steel in UAE takes care of these things
Ease of installation, inspection, and operation
Suitability to the environment
Piping thickness, material, cladding, piping insulation
Supporting material compatibility, and piping attachments
Piping system's design temperature
Pipe material of construction
Pipe support function
There are different types of pipe support, including slide bearing plates, threaded members, pipe bearing components, dynamically loaded supports, and hanger supports. You can access all kinds of pipe supports at our metal fabrication company. All these are versatile items that provide ease for the worker to perform their work efficiently and improve the productivity of the piping systems.