The security walls around your premises might be expensive, but if you are looking for a secure and cost-effective solution, Chain-Link Fencing would be the best option for you. They are famous for versatility and easily install anywhere. The standard fencing material is steel, but now you can get many other types of Chain-Link Fencing only at Al Safrik Steel.  
We produce chain link fences with multiple materials and weights where you can get 900mm to 3.6m in height. We offer customized fencing options where you can get a fence with different coating, colors, and weights. People used to install fencing to secure the area, but they are now choosing for many other objectives like security, decoration, and a quick installation solution.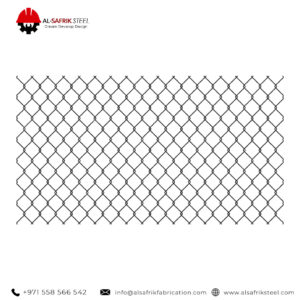 View
AL Safrik Chainlink Fencing

Gallery
Al Safrik Steel is a steel fabrication company that manufactures customized and fabricated products all over the gulf region, including Dubai, Oman, Qatar, Saudi Arabia, and others. We produced Chain-Link Fencing for multiple purposes, including:
Residential boundaries
School Fencing
Commercial and security fencing
Railings
Gates & access control
Site hoarding
Rigid mesh fencing and many others
You can get the fencing mentioned above in whatever quantity and shape; the choice is yours.
Types of Chain-Link Fencing:
If you are looking for different fencing styles and materials, you will get all the stuff here possible only at Al Safrik Steel. We are one of the well-known steel fabrication companies in UAE, where different types of fabricated products are available. Here you can get the most unique and standard kinds of Chain-Link Fencing, and they are as follows:
1.     Galvanized Chain-Link Fencing:
It is one of the most famous types of Chain-Link Fencing used in outdoor areas where the weather can hit directly. The molten zinc coating on the high-quality steel makes it rust-free and durable for a long time. People prefer it to protect their animals on the farm and even install it as the boundary of their residential areas.
2.     Mesh Chain-Link Fencing:
This type of chain link is fencing for its mesh pattern, and it's different from the standard diamond design. Such fencing is used for aesthetically pleasing as they are affordable but give the impression of iron and aluminum fencing.
3.     PVC-coated Chain-Link Fencing:
It has a unique layer of PVC plastic on the metal wire strand, creating a beautiful design. This type of Chain-Link Fencing is used to give extra protection to the fencing and consider best for outdoor use.
4.     Heavy duty Chain-Link Fencing:
It is made of thicker wire strands that give it strength and resistance to wear and tear. The most common use of it is in high security and traffic areas. It will be the right choice if you are looking for heavy-duty Chain-Link Fencing.
5.     Vinyl Coated Chain-Link Fencing:
It is the same version of galvanized chain link, but the only difference is the coating. The vinyl coating ensures the security of your family, where your kids, pet, and you can get injured due to the sharp end of the wires. It is also available in different colors that you can select according to the color schemes of your indoor area. Vinyl-coated Chain-Link Fencing is one of every person's most common and famous choices.
6.     Aluminum Chain-Link Fencing:
If you want to purchase durable, corrosion-resistant, lightweight, high tensile strength, and weather-resistant fencing, choose an Aluminum chain link fence. It is best utilized at public points like ranch or schools. It comes with warranty of many years, and making it the leading choice.
7.     Stainless Steel Chain-Link Fencing:
The stainless steel fencing is expensive, but it is selected to deal with harsh weather and high temperature, where its alkaline resistance makes it the perfect choice. It's a more durable option than any other fencing type but needs to be budget-friendly. It has been massively used for high-grade enclosures like airports, highways, railroads, etc. Moreover, stainless steel fencing is not prone to roll, sagging, or even breakage, which is why it became the first choice for commercial use.
Benefits of Chain-Link Fencing:
Chain-Link Fencing is used for many reasons, and here are some benefits that you can relate with:
1)    Cost-effective:
Chain-Link Fencing is considered the cost-effective solution for homeowners and businesses. Installing any other type of fencing might cost you a lot, but chain fencing will give you visibility, strength, and security within the minimum budget. Most individuals choose it just because of low pricing. Such a fencing solution would be an outstanding choice in the extreme weather of the UAE.
2)    Safety and security:
The interlock, high-coated steel wires give it the durability that makes it last in hurricanes. The vertical zigzag pattern of the fencing provides it the strength to deal with any weather condition. They can be installed on short or long heights, up to 7 feet, but the choice is yours.
3)    Durability:
Chain-Link Fencing comes in different designs and materials. Every material has its durability and strength; therefore, people select them as a long-lasting solution. There is only a need to choose the fencing material according to the area's demand because it is different Chain-Link Fencing is remarkably suggested for indoor and outdoor fencing. Here indoor means the lawn or garden areas.
4)    Design and patterns:
You can decorate your outdoor space with beautifully created Chain-Link Fencing. Some types are available in different colors that you can contrast or match with the theme of your office or home. Moreover, you can select them according to their thickness, design pattern, and colors.
5)    Maintenance and installation:
Chain-Link Fencing can be installed easily and has low maintenance. You can wash them every time while watering the plants in the garden. If they damage, the portion can be cut down and installed without losing the whole fence. The installation is simple, and you can do it yourself if necessary. Hiring an expert or professional is unnecessary, but you can easily install the breaking part without assistance.
Al Safrik steel manufactures Chain-Link Fencing of different designs and sizes to select the right one for your security. Moreover, you can also check multiple steel-fabricated products and get them with a single click.