Who does not know about forklift block clamps? It is an essential part of the forklift truck. Forklift Block Clamps enhance daily production and are made for various applications. They can move and lift the products to place on the production line or stack it for further utilization.
Forklift Block Clamp Description:
You can get a variety of clamps with their important features, including:
More efficient production
Easy to service
Versatile
Durable for tough applications
They allow operators to move and pick up products safely by reducing the risk of damage. Using our designed clamps saves hours on human resources since they are more efficient in handling products and producing faster.
Since most objects that clamps move are not on pallets, it is vital to review the fragility and design. Here we are going to enlist some common types so you can understand their importance of it.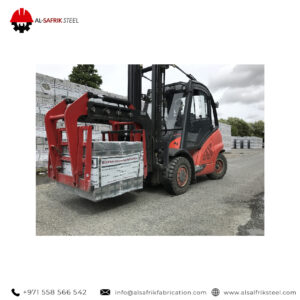 1.      Paper Roll Clamps
It is suitable to allocate the right pressure to avoid damaging and crushing products. You can get various gripping for different types of papers.
2.      Pole tine
These two-way fork clamps contain two rods that accommodate moving like rollers or drums. They come with some side thrust.
3.      Drum Clamp
These are powerful hydraulically powered and come in different configurations that offer you to handle between four and one drums. You can find them tipping and pouring.
4.      Timber Clamps
These are ideal for timber logs transportation. They are of two types adjustable arms and single-grab arms.
5.      Appliance Clamps
If you frequently handle the packaged shipment of palettes of materials like produce or wine, you'll want to get your hands on appliance clamps. This clamp attachment for forklifts is specifically designed to move items with care.
6.      Concrete Block Clamps:
Transporting bricks and cinder blocks requires a lot of patience and care, as the materials can easily become damaged in the process. A concrete block clamp provides an extra level of security for the items being moved and offers a cushion to protect the integrity of the concrete or bricks. 
7.      Bale Block Clamp:
Such attachments are used to handle the baled materials, including:
Synthetic textile fibers
Natural fibers
Rags
plastic products and many others
It can handle any task as a flexible alternative, no matter the work environment. It has side shelves which are helpful in a way.  You will get everything in your excess because of it. The bale block clamps are available in rust-free coatings that will keep them secure and moisture free.
These clamps are of exclusive quality and durable. You must manufacture, repair or maintain your machines with high-quality spare parts. The clamps are made of steel, and our fabrication service is exclusive. Therefore, using high-quality clamps is essential because it improves the functionality of the forklift. It helps pick the material and make the public face the situation. Lifting big blocks or other things from the ground is very difficult.
Picking the material after any natural disaster or construction site is not easy for any company. You need to request a quote and select the best size and prices. You need to choose a reliable company for this. You need to arrange the date of delivery. You need to handle the task when they will come and what they have to pick. It is a huge mess and botheration. The dependable company will pick you out of this hassle.
Things to consider while choosing a Forklift block clamp:
Designs and Sizes:
If you are new to the forklift business, you need to spend less on investment. For this purpose, Al Safrik is the true solution. We are available online as per the designs and sizes. By offering firmness and comfort, it plays a vital role. Coming in several styles and forms, these items are easily available to us. These are available in diverse sizes, such as large, medium, small, and double.
Clamp support function
Clamp material for construction
Clamp system's attachments, compatible supporting material
Clamp thickness, insulation, cladding, material
Suitability to the environment
Ease of operation, inspection installation
There are various kinds of clamp support, including hanger supports, dynamically loaded supports, bearing parts, slides, and others. All these are versatile, and offer supports at our metal fabrication company. It performs their work efficiently and improves piping productivity. All these tools are very easy to access and install.
Capacity:
Clamp attachments are utilized on plunk-down forklifts, characterized by the business as Class I, IV, and V. The massive weight of the clip, combined with the item's heaviness, will influence the forklift to limit nuts and bolts. Forklift clamps move and turn items, which influences forklift strength. These variables de-rate the forklift's capacity, and you will be unable to work on equipment in your fleet. We can help work out estimations and loads to assist you with deciding the necessary forklift capacity.
Attachment Service:
Like other forklift attachments, the clamp has a few complex components, and ordinary help keeps it reliable. If you have forklift maintenance, you can discuss with us the ongoing system to affirm, assuming assistance for the clip attachment is incorporated or will cause an extra expense.
Material Steel Vs. Aluminum:
Aluminum is a lightweight metal as compared to steel. This is the reason its cost of transportation is less. Why do you need a lighter material? The reason behind it is that the clamps work on the surface area.
You can use both brackish and salt water both. It contains higher electrical capacity. Aluminum items are active; it is exposed to air. It is light to fit and ship. These anodes do not have the potential for frequent changes. This is the reason it needs fewer maintenance costs.
You can easily buy these machines online. Buying a forklift block clamp or several items is a big investment. You need to check all its important features. It is a fact that after assembly, the finished machines are verified.
Why choose Al Safrik Steel?
Al Safrik Steel is a name of fame because they provide high-quality steel parts and forklift clamps attachments all over UAE that help in picking heavy material from the ground. These high-quality parts improve the functionality of the products. The forklifts are used to lift heavy items like concrete material, building blocks, cars, and others.
Al Safrik Steel manufactures forklift block clamps for individuals and industries that need unique forklift attachments. It is the best option for your machines.
We have designed efficient products to improve the functionality of the machine. The high level of firmness and comfort make it an essential item for your forklift trucks.
We always check the size of the forklift; it must neither be very large nor too small. Our fabrication team knows that it must be spacious to provide you with enough room for the driver.
Our main focus is quality, making them durable and strong to accommodate you conveniently.
We know that clamp attachments must be portable and lightweight so that they will be easy to carry, and especially the machine must be easy to drive.
This type of material should be comfortable to provide you with efficiency.
It should contain modern technology and does not need repair.
You can get the finest forklift block clamps or customize them in the best quality. Please place your order online with Al Safrik Steel because we deliver your products to your place. In the UAE, we provide fast shipping services in all states.