A bag lifter provides a great solution for your lifting needs to move sack or bag quickly inefficiently. It moves your product safely without damaging it. It is used for both lifting and gripping operations, thus facilitating the control of the device and optimizing the speed and ease of the process. There's no need for many buttons; only a single control system operated with the fingertips to pick up, lift, lower, and release the loading simple, fast, and safe sack handling!
Are you looking for suitable quality lifting equipment for your sacks and bags? Al-Safrik Steels is your rescuer of the day! We are your helpers for your lifting needs. Al-Safrik Steels provides you with various lifters for your sack or bags of any material like woven, plastic or paper.
Al-Safrik Steels Bag Lifters:
With a decade of experience, Al-Safrik Steels are pioneers and specialists in manufacturing industrial products. We manufacture bag lifters of top quality and compact design, thus providing value for your money—a lightweight, manoeuvrable size, maximum load-bearing capacity all set high standards. Our bag lifter saves you time and money on-site.
Why Al-Safrik Steels Bag Lifters?
Our sack lifters are manufactured exclusively in Dubai, United Arab Emirates. Our expert engineers are designing bag lifters keeping quality control. Having an extraordinary history of manufacturing industrial products, we satisfy our clients by providing them with tough and reliable products that last for years. Al-Safrik Steel has the right types of equipment for every purpose with or without operating staff. 
These bag lifters are mounted on forklifts or hook attachments easily. We provide the best solution for lifting the jumbo-sized bag with the forklift or gantry crane.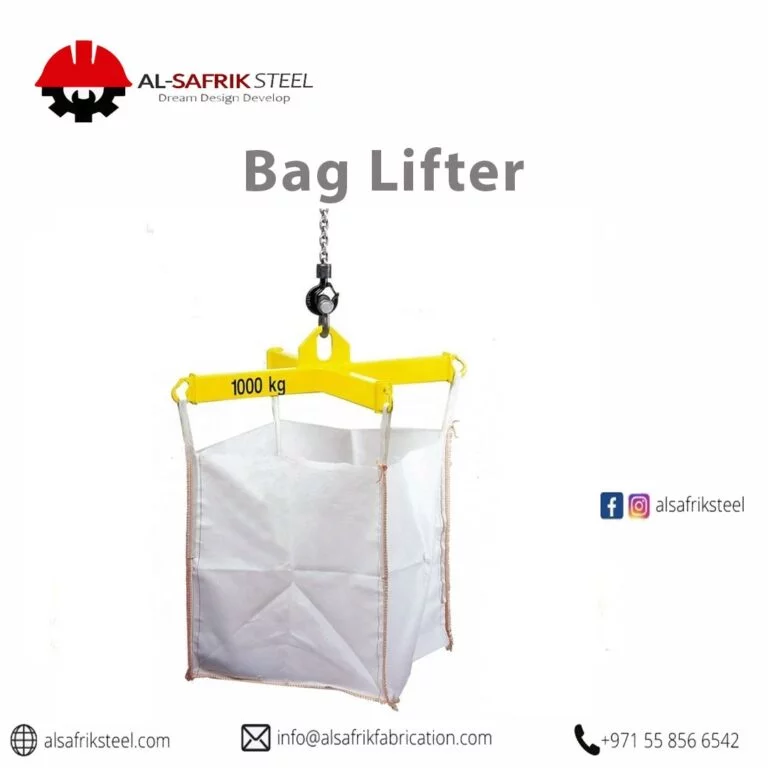 Features Of Our
Bag lifters
Our bag lifters are third party tested and certified. Standard designs are for 1, 1.5 and 2 tons, although customized designs are fabricated and manufactured.
Following are some other prominent features of Al-Safrik Steels Bag Lifters,
Fast and direct delivery to your site. 
Our equipment is user friendly and practical. 
Helps in reduction of repetitive lifting
Reduction in workplace illness/injury claims, resulting in lower insurance costs.
Allows for adaptability on the job; more workers can now complete the task without physical limitations being an issue.
Our systems pay for themselves through an increase in productivity and efficiency. 
Weight and capacity ranges are considered during the design process, and our systems can handle multiple weights, textures, and products without altering the system.
They are designed to work in your distinct facilities conditions, such as high heat, dust, humidity, moisture etc.
Our products are going to save you time and money. 
Our pieces of equipment enable you to execute your work safely and efficiently. 
We provide you with comprehensive services in one place. 
We will not only end with selling our products, but our expert staff also perform maintenance work, on-site repair work and necessary inspections professionally.
We will completely tackle your budgetary constraints. 
Complete customization of the product to suit the specific application.
Advantages of bag Lifters
Bag Lifter helps assist you in your work and provides the following advantages:
Bag lifter is a proven health and safety solution.
A bag lifter is a substitute for efficient use of labour.
You can easily lift bags as many times as you want simply an effortless repetitive lifting.
Bag lifters give you Minimal running costs.
Bag lifter Increases your operator safety and performance
Bag lifters Increase productivity.
It is convenient and efficient to deal with large bags of sand, gravel, feed, waste or other materials as they can easily be transported in these big bags with low maintenance.
High stacking options are available.
Lifts weights with the capacity of 1000 kg to 5000 kg, a great cost-effective solution to carrying bulky loads
Soft outer neoprene rubber seal.
Hard-wearing, natural rubber inner seal.
Internal mesh to stop the sack from being sucked into the system
Upper rotary coupling gives 360º rotation.
Bag lifters are Robust and proven in arduous conditions.
Bag lifters have an In-built safety feature that prevents load dropping.
Bag Lifters is a Cost-effective and safe bag and sack handling solution.
Installation, spare parts, and service are availables
Applications of bag Lifters
Following are the applications of Al-Safrik Steels bag lifters. 
Plastic and paper bag lifting 
Burlap bag lifting
Poly woven sack lifting 
Jute sack lifting 
Hessian sack lifting 
Sack lifting on the same processing line
Stainless steel sack lifting systems for sanitary areas
They are required in various industries. Big, bulk, and fertilizer bags are to be used daily as they perform well and are safe when lifted with proper lifting equipment. For forklifts or telehandlers, big bag lifters make a great addition to your attachments and store away easily.
They are a sturdy product that will last numerous years and do not require heavy maintenance, only regular checks; this makes it a cost-effective product that will make lifting big bags a safer and more efficient operation.