Forklift Mounted Manbasket
View
Forklift Mounted Manbasket

Gallery
Manbaskets are ubiquitous in the construction or mining industry because these are used to suspend workers from forklifts or cranes. Those are famous with the crane cage or the man cage names in the industry. These are popular for long-lasting service, heavyweight stability, and top-end production. Man baskets are formed, certified, tested, and designed to exceed federal standards. Moreover, these are great to demand extended, rugged job site use.
ManCages contain different capacities and have various objectives. It comes with several handrails, a side entry door, four hoist chains, a tool tray, and many more. Its removable roof makes it suitable for different projects.
Features of the Man Baskets
500 kg and 250 kg capacities are available for different sites
It comes with wholly welded and high-strength designs
Full-length formed fork pockets
2-safety harness hook points
Mesh backing
Strong safety chain to protect basket to lift
On all sides, kickplate
High-strength side rails
Swing-in door with safety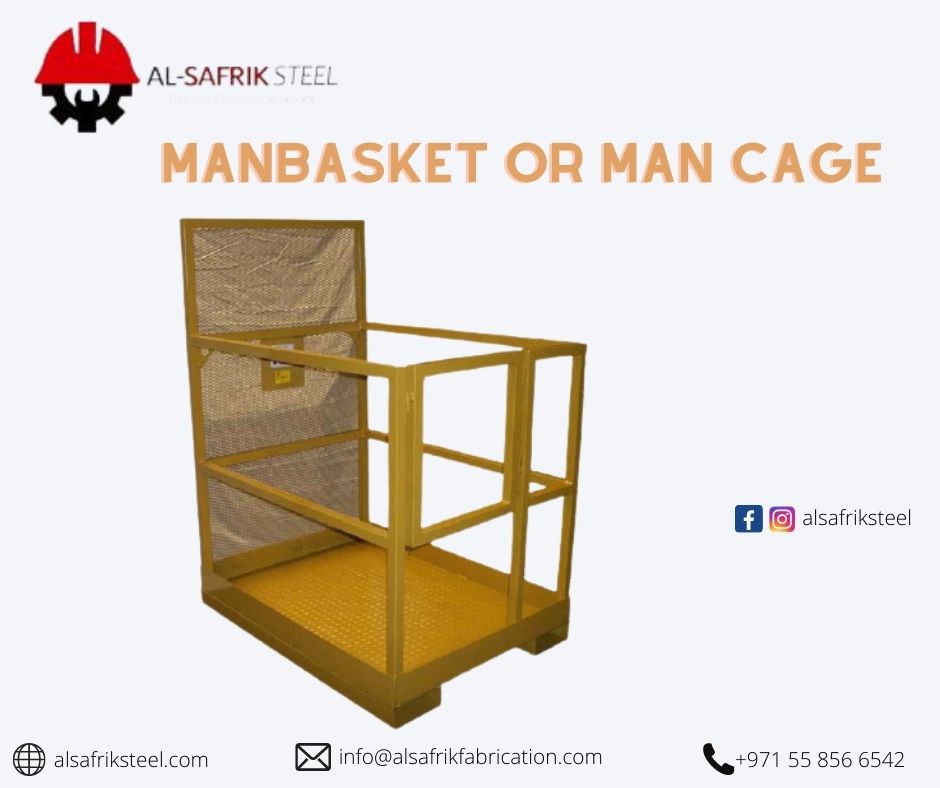 Where to use the Man Baskets?
There is a broad range of applications for protection, with different varieties of baskets utilized for multi-purposes. These cages are designed to protect the construction site. Moreover, these are suitable for elevated things and work areas and may be mounted on different machines such as telehandlers, cranes, and forklifts. Some expected benefits of using these crane cages are here.

Offers ease to work
To make your project successful, several things are essential. It would help if you had safe and efficient equipment and machinery. With the help of a man basket, you can complete your projects on time. You need heavy machinery and cranes to lift and drop heavy items on any site. This is possible with the help of the contractors because buying these man cages is a significant investment. For the majority of the people, it is not possible to buy this equipment. The contractors provide you with experienced staff as well.

Suitable for the Personal Rescue
These cages are used to safely rescue one area to another to secure, safe, and effective. Due to the four-tie down points to say the stretcher or stretcher, it is highly safe for the majority of the users. It makes rescue simple, easy, and quick for the users due to the lower half of the basket. For the majority of the users, it is very important to use a high-quality crane cage in this situation.

Maintenance and Construction
Specialized man cages are safe for the users to lift within the air and use a telehandler. It is a rough-terrain machine that works like a forklift for construction or other external construction projects. They boast hefty wheels on the vital chassis. It is important to have a secured lifting machine that can provide you with complete safety. For the majority of the users at the construction sites, it is the ideal thing that protects them while working at height.

Good for industrial use
There is a broad range of industries in which this item is used. The mining industry is the most suitable name in this regard. In this industry, a crane cage is well-matched for the work. Crane-supported and heavy-duty items are readily available for this purpose. These heavy-duty items are used in the mines because they are ideal for lifting more than one person. It is a better alternative for aerial lifts, stairways, scaffolds, ladders, etc.
Common uses of the man baskets are several. These are great to use at the site of the sand-blasting, pressure-washing, commercial painting, maintenance and inspection, overpass construction, bridge, residential and commercial construction. These are used as work platforms in the industry so that the majority of the people know them as personnel baskets, safety cages, construction cages, and many more. On the construction sites, these are used for transportation workers. It comes with the latest lifting technology, and the majority of the contractors use it as crane-suspended or forklift-mounted machines.