Do you want to lift the equipment and shift it to another location? The Material baskets are the right options for your construction site, factory, workshop, and other workplaces. Al-Safrik Steel fabricates and sells its first material-only platform. We are manufacturing different types of platforms for all industries so that you can access us for the best material baskets in the entire UAE. In all states of the UAE, we are accessible with just a click.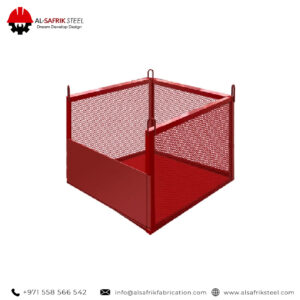 View
AL Safrik Material Basket

Gallery
Company Procedure for Material Basket Usage:
We take your requirements when you place an order for the material baskets. It includes the type of floor, ramp, gate, height, width, length, capacity, and others. These platforms can be suspended, forklift mounted, and hoist or crane suspended.
All our material baskets are designed for your industry's requirements. If you want to meet high standards of safety in the work area, our top-notch material baskets are highly suitable because they contain documentation of full-proof load tests. Each product is formed to manage a minimum of three times its maximum recommended load.
Once you choose a suitable design, we will put it in our production schedule. Before approving it for use, we put all our crane and forklift platforms through load testing. Al-Safrik Steel welcomes inquiries on the media of the material and manages the procedures to work with you closely to deliver the platform constructed exactly to your specifications.
Types of Material Baskets:
Two types of material baskets suit the platforms of the crane and forklift. You can get these material baskets with the following features.
Floor style such as a smooth plate with non-slip tape, diamond plate, grating
Additional features like tool trays, rubber bumpers, wall rollers, casters
Additional tie-off locations
Maximum occupancy
Maximum rated load capacity
Powder coat color
Overheated protection
1. Premier Crane Material Basket:
We design these baskets as per compliance and industry standards. They contain a unique detachable test weight system that ensures maximum safety below the hook.  It comes with an electrostatic powder coat finish that offers high resistance to impact, corrosion, chemicals, abrasions, and others. The basket is available in our safety black and yellow, or you can choose your custom color.
The premier crane man basket is available in a round shape for the crane platform. The basket contains heavy gauge floor grating and steel framing to support a solid platform. Its dedicated base-attached suspension system decreases platform tipping and offers even load distribution.
1.     Basket for Professional Uses:
These are two types of baskets that are designed for professional use. These are available in two forms round and rectangular. It contains perforated steel sides from the toe-board to the mid-rail. These baskets have access gates with positive restraining devices. The man baskets are painted Yellow with durable enamel paint.
2.     Rescue Basket:
It is ideal for construction sites and helps to manage safety rules. This basket can accommodate two persons at a time and a gurney with a specific drop-down ramp for roll-on access. Custom configurations and sizes of rescue platforms are available.
3.     Custom Material Basket:
It is a special type of basket you can order with special specifications. You can order fabricated platforms with rescue baskets, cantilever platforms, lifting posts with additional attachments, bumpers, casters, removable panels, enclosed platforms, and others.
2. Material Baskets for Forklift and Cranes:
1.     Load Test:
We go for a load test before shipping the material basket to your location. We want to make sure that they are completely capable of withstanding their recommended weight. These tests are delivered to you after purchasing because they are documented.
2.     Custom Built:
All the material baskets by Al Safrik Steel are built based on specifications such as floor type, gate, height, width, length, and others. They are custom ordered and generated specifically for your site.
3.     Guaranteed Safety:
In the UAE, you must follow the industry standards regulating material platforms. However, we build only platforms that meet all safety standards. Our products are produced from high-quality materials, exceptional design, and work-safe colors. Our staff knows how to manage the machines and these platforms.
4.     Sturdy Material:
We have designed these baskets with strong and sturdy material that consists of steel construction. You can choose a variety of overheating protection, gates, ramps, shapes, and heights. In this way, you can get the best material baskets for your workplace.
Get the best Rates and continue working:
Since we have been operating, the best rates have been a complete service logistics organization. We have started from maintaining and loading to unloading, the uppermost standards in terms of safety while in transportation. With several years of experience in this industry, we bring Industry knowledge in managing all types of heavy machinery hire within the UAE. Our organization works with project-heavy machines (overweight and over-dimensional) and regular trucking, airfreight, and cargo service.
You will find us the most reasonable rate in the entire industry because we offer the most competitive pricing. Our price will suit you on every load because we are guaranteed and beat others' rates. Get an online quote now. It does not matter which location and deadline; we are professional and accurate in our service. We deliver your freight on time at the lowest possible rates within the UAE.
How do we meet the deadlines?
With the help of our organized system, professional staff, and various transportation sources, we provide high-quality services. Our mission is to satisfy our clients by offering professionalism. Our focus is to attain customer satisfaction, which is possible with industry knowledge and customer support. We are fast and steady because we have the following sources to transit.
Our organization has realized that one factor that has been overlooked in the logistics industry is Customer service. It is the reason we reply to our clientele. You can track your delivery at each stage with us. We are very easy to access online due to 24/7 support. Our expert front desk staff is always present to reply to your call, voice mails, emails, and phone within our office system.