Imagine having the solution of all your industry needs under one roof, isn't it feel exciting and convenient at the same time? 
Al-Safrik Steels covers all the industrial equipment and machinery needs. Al-Safrik Steels has a decade of experience in manufacturing industrial machinery. Through advanced technology and expert engineers, Al-Safrik Steels is manufacturing premium quality products. We give customization, quality, excellence, and improvement with the latest industrial trends. Al-Safrik Steel manufactures its finest products in Dubai, UAE, to its clients in Abu Dhabi, Sharjah, and the Gulf region.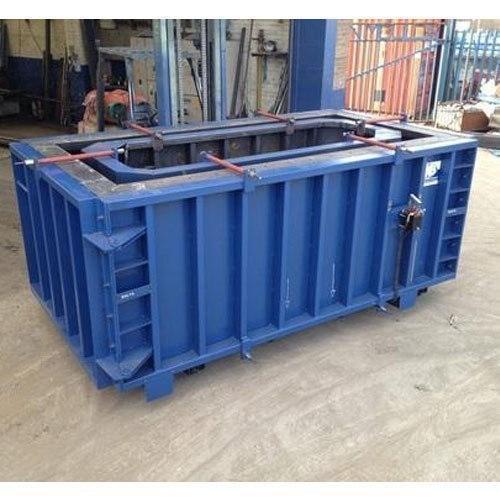 Al-Safrik Steel's

Precast Concrete Mold
Al-Safrik Steels specializes in the design and production of Precast Concrete molds. We provide our clients with customizable designs at reasonable prices. We manufacture precast concrete molds for civil projects in UAE.
We have completed numerous projects like concrete barrier molds, column molds, wall section molds, beam molds, foundation slab molds, block molds, and other special formed molds as per the requirements of our clients.
Our skilled team and expert engineers carefully design the molds keeping the quality and production intact.
What is Precast Concrete Mold?
Precast Concrete Mold produces precast concrete, reusable molds that can be custom built-in in various shapes. Concrete Mold creates rugged and durable concrete in any desired shape.
What is Precast Concrete made of?
Precast concrete comprises a mixture of cement and water with other concrete mix items specified by the expert. Before the concrete mixture dries up, it can be converted into many shapes and designs.
 The molds used to create precast structures can be used repeatedly, but on the other hand, on-site concrete molds are typically built once and discarded.
MORE ABOUT PRECAST CONCRETE:
For Large Scale Projects
We use "Forms" for the Precast Concrete Molds for large-scale projects. Forms are used to create the shapes of sidewalks, slabs, and walls. It helps to hold the concrete mixture in a place until it dries and is ready for use!
Following are some basic types of Forms,
Wooden forms
Foam Concrete forms
Steel forms
Insulated Concrete forms
Concrete Wall forms
For Small Scale Projects:
For small-scale projects, concrete molds can be custom-built in a particular shape.
Some molds have design details on the bottom and sides. As the concrete has dried, the Mold is removed, and the required design with details is imprinted on it. Oiling of these molds should be done before using them. The oil prevents concrete from sticking to Mold and prevents the design details from damage.
Other concrete molds are plain on the bottom and sides. The Mold is filled, and the surface is leveled. The required designs with details are added to the surface of wet concrete afterward.
Rubber Molds
Crafters can build their concrete molds with liquid urethane rubber or latex. The rubber is painted, poured, or sprayed onto a prepared surface and allowed to thicken. The rubber mold, a mirror image of the original object, is peeled off. It can then be filled with wet concrete to create an accurate original copy.
Readymade Molds
Readymade plastic molds can be purchased in a variety of forms. Many of them produce highly detailed pieces. 
Specifications of Al-Safrik Steels Precast Concrete Mold
Following are the standard specifications of Al-Safrik Steels Precast Concrete Molds,
Al-Safrk Steels ultimate design flexibility. 
Al-Safrik Steels execute stringent quality control measures to meet specified or national standards.
Significant dimensional accuracy and finishing.
Advantages of

Precast Concrete Molds:
Following are the advantages of Precast Concrete Molds,
Manufacture of precast elements concurrent with the commencement of early site work.
It Reduces time on site.
Precast concrete molds Reduce site defects.
It Reduces propping and scaffolding costs.
Precast concrete molds lower site labor costs.
Molds help reduce plant, amenities, tools, and materials storage on site.
Minimize finance costs resulting from reduced build time.
Earlier revenue receipts because of shorter project times.
Once precast installation starts, on-site construction and off-site manufacturing can be overlapped, reducing overall site construction time.
The continued, uninterrupted erection of precast structural components lends itself perfectly to fast-track construction schedules.
The installation incorporates the latest connection technology and can proceed swiftly and safely in almost any weather by expert erectors.
Concrete curing time will not affect project time. Most precast products are trafficable after installation.
What is Precast Concrete Mold?
Following are the types of precast concrete molds manufactured by Al-Safrik Steels,

Concrete barrier Molds

Foundation Slab Molds

Column Molds

Wall Molds

Staircase Molds
We will briefly go through the types as mentioned above of molds one by one,
CONCRETE BARRIER MOLDS
Concrete barrier molds are used to manufacture concrete barriers. Concrete barriers feature long life, high protection, and a relatively simple installation and running. Concrete traffic barriers can be permanent or temporarily installed during road works.
FOUNDATION SLAB MOLDS
Foundation Slab molds can be classified into prestressed hollow core slab molds, prestressed plank molds, and non-prestressed slab molds.
Prestressed hollow core slab molds are prestressed slabs where the tendons are used. Therefore, prestressing the tendons arrangement must be made using good mono or multi stressing hydraulic jacks. These slabs are produced using the extruders, which have the side forms and the pipe to create the slab's hollowness.
Prestressed plank molds are also called prestressed solid slabs. The thickness of these molds is usually 75/ 110/ 150 mm, and the endplates prepared will match the thickness of the slabs with the slots for the strand patterns.
Non-prestressed slab molds are fabricated to produce customized individual slabs with varying sizes.
COLUMN MOLDS
Columns are a prefabricated element usually produced in a wide variety of dimensions for both length, width, and position of consoles. For this reason, the column molds can be conceived in different ways according to customer requirements in terms of the range of elements to be produced. 
Columns are molded horizontally; only in rare cases such as round columns, vertical molds are used. Column mold consists of a formwork base with a fixed center platform and movable side platforms.
WALL MOLDS
There are different types of wall mold being used in the industry widely. 
Battery mold is a set of molds where you can make several wall panels as the molds are arranged adjacent to each other, and all such molds are braced. Battery molds for precast concrete elements offer maximum productivity in minimum space. The battery molds have been designed for vertical concreting of individual concrete panels and floor elements in various sizes and thicknesses. 
Vertical battery mold helps create concrete panels with the exact dimensions and a specific finish on both sides of the precast concrete panels. 
Tilting mold cast the wall panels horizontally and then tilt the entire Mold up to the right angle. The panels are then handled, tacked, and transported to the site vertically. The tilting of the Mold is done using hydraulic jacks.
Flat/table molds are commonly used to make slabs, and wall panels as these molds' costs were much lesser comparatively. It is handled and transported in the horizontal position of the site. During the erection of the wall panel, it is tilted using the cranes and put in position.
STAIRCASE MOLDS
Staircase molds are fabricated in an upside position. The landing slab shall be integrated with the flight of the stair or as a separate slab. These staircase elements produced are tilted after producing or at the site before installation time. It is recommended to use standard tread and riser dimensions. When these dimensions change, another mold must be fabricated to produce the same.